How to get around in Stockholm as a visitor
When visiting Stockholm it's easy to get around. You can travel by car, taxi, public transportation, bicycle or walk. Stockholm is compact and the transportation options are many - everything is just around the corner.
Public transportation
AB Storstockholms Lokaltrafik
The public transportation in Stockholm, SL, offers buses, subways, trains, trams and boats. You can buy your ticket at SL Centers, ticket booths at the subway stations, some kiosks, or with the SL app. You have to buy your ticket before you enter your transportation of choice, they don't sell tickets on board.
If you buy a single ticket it's valid for 75 minutes. You can also buy tickets that are valid for 24 hours, 72 hours, 7 days or 30 days.
Public transportation will take you almost everywhere in the city, and even to Arlanda Airport if you want.
Taxi
There are a lot of taxi companies in Stockholm. The most popular are:
Taxi Stockholm
Taxi Kurir
Uber
A good thing to remember is that approved taxis always have a yellow number plate. If you want to get hold of a taxi the easiest way is to call the taxi company or use their app, but you can also hail one on the street or find one at a taxi rank.
In Sweden taxi prices are not regulated, so the pricing can vary from company to company. On the yellow label on the window of the taxi you can often see the price for a 10 km, 15 minutes trip in SEK. For trips to and from Stockholm Arlanda Airport the prices are usually fixed, but it's a good thing to remember to ask your driver.
Bicycle
If you want to get around Stockholm like a local you can rent a bike. There are many companies that rent bikes in Stockholm, some examples are: Rent a Bike or
Cykelstallet.
Some hotells also offers bikes for their costumers.
In Stockholm there are many bicycle paths and lanes so you can easily get around the city in a safe way. There are also many parking spaces for bikes, especially near subway stations, shopping malls and other public places.
If you need more air in your tires there are multiple air pump stations around the city that are free to use.
A new and popular way to get around the city is with an electric scooter. Voi offers scooters for rent around the city. You download the app, find a scooter on the street and rent it through the app. It costs 10 SEK to unlock the scooter, and then 1,5 SEK per minute. When you're done with your ride you can park your scooter and end the ride in the app. Just remember to park the scooter out of the way from cars, pedestrians and other people around the area.
Ferries and boats
If you want to experience Stockholm from the water a perfect way to get around is by ferry or boats.
From Slussen you can take the ferry out to beautiful Djurgården. This ferry is used both by tourists and people commuting and you can buy your ticket from SL.
There are also a lot of companies that offer hop-on, hop-off tours and boat sightseeing of the city. That way you can see the most popular tourist attractions and enjoy a beautiful boat ride of Stockholm.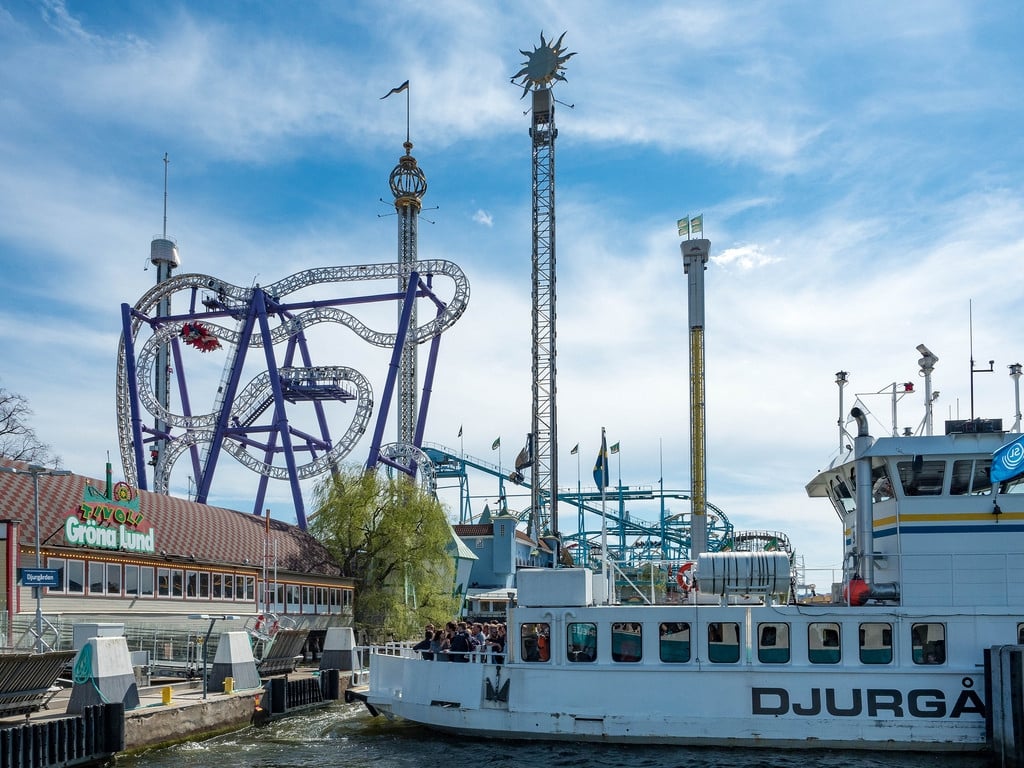 Hop-on, hop-off buses
Stockholm Red Buses
If you want to ride around the city on a dubbel decker bus the popular hop-on, hop-off buses are for you. A lot of different companies offers this service around the city and they usually have guides in a lot of different languages.
If you travel with a hop-on, hop-off bus you can get on and off wherever you like and experience Stockholm at your own pace.