Top 10 best places to go swimming in Stockholm
Adventure Family Fun Seasonal Celebrations Retreats & Relaxation Top 10
Top 10 best places to go swimming in Stockholm
During the summer there is no better way to spend the day than relaxing and having fun by the water. In this regard Stockholm is somewhat unique - you can go swimming in the middle of the city. Stockholm consist of several islands and the water that surrounds them is clean and clear - and perfect for a dip during the warm summer months.
We have collected the 10 best places to go swimming in Stockholm - everything from sandy beaches and cliffs to relaxing spas.

You can find detailed instructions on how to get to the sites below, more general information on how to get around in Stockholm can be found
here
Långholmen beach
Långholmen is a popular summer destination and is located in the city center between Kungsholmen and Södermalm. The island offers both sandy beaches, grass areas, and cliffs and rocks to jump and dive from.
To get here take bus 4 to Högalidsgatan.
Elements Spa
Elements Spa is a cutting edge spa located in Södermalm in Stockholm with pools (indoor and outdoor) and steam and dry sauna accompanied with staggering views.
The spa entrance fee includes the utilization of a wardrobe, shoes and towel, and also complimentary snacks and water. If you happen to be lucky enough with the weather you can use the sun patio that has an ideal south-bound position. Read more
here
.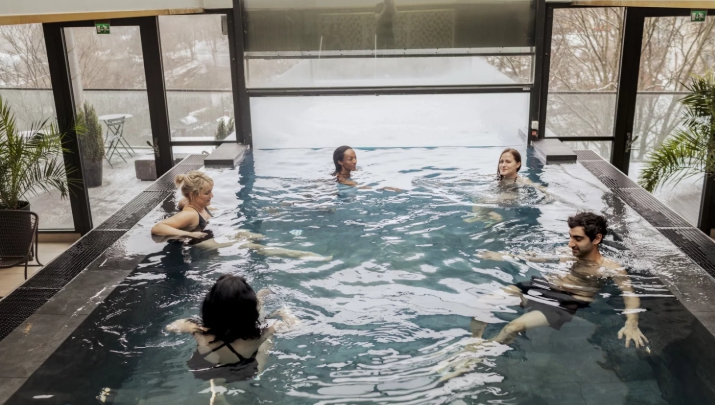 Brunnsviken beach
In Frescati Hage at Brunnsviken in Ekoparken you'll find Brunnsviken beach. Here you'll find small sandy beaches, big grass areas, and cliffs. If you want to jump in the water there are floating docks to dive from.
To get here take the subway to Universitetet.
Oxhålsbadet
This beach is located at Stora Essingen by lake Mälaren. Oxhålsbadet offers long docks to get further out in the water and big grass areas to relax on in-between swims. Its a perfect place for a day in the sun.
To get here take bus 1 from Fridhemsplan to Flottbrovägen.
Fredhällsbadet
If you are an experienced swimmer you can visit Fredhällsbadet at Kungsholmen in central Stockholm. The area offers cliffs by the water and grass areas to relax on. The water is deep, so make sure everyone in your company knows how to swim.
The area is open for the public from 9 am to 7 pm during the summer.
To get here take the subway to Krisineberg.
Fjäderholmarna in the archipelago
The nearest archipelago island from Stockholm city is Fjäderholmarna. From Slussen in central Stockholm, it only takes 25 minutes by boat to get out to this wonderful island. Here you can enjoy beautiful rocky beaches. Read more
here
Tantolunden
In the park Tantolunden by Årstaviken in Södermalm you'll find a perfect place for swimming in central Stockholm during the summer. The sandy beach offers docks, floating docks and diving towers for the brave.
The area also offers minigolf, an open-air theater and playgrounds.
Kanaanbadet
By lake Mälaren you'll find Kanaanbadet, a popular swim area in Grimsta nature reserve. The area offers big grass areas and sandy beaches.
To get here take the subway to Blackeberg.
Trekanten beach
The lake Trekanten is a popular swim area for families with smaller children. The area is surrounded by beautiful nature and offers both a beach and a dock.
To get here take the subway to Liljeholmen.
Flatenbadet
If you're looking for a big sandy beach, Flatenbadet is the way to go. This beach is the biggest one in Stockholm and has room for up to 15 000 visitors during hot summer days. Lake Flaten is considered the cleanest lake in Stockholm. By the water, you'll find docks and a diving tower.
To get here take bus 816 from Gullmarsplan to Flatenbadet.
Sturebadet
If it's cold or raining and you want to go swimming anyway, Stockholm has several indoor pools to choose from. Sturebadet is one of them. Sturebadet is located in the Sturegallerian shopping mall at Stureplan in central Stockholm. Here you can enjoy exclusive spa treatments or just relax by the pool. Read more
here