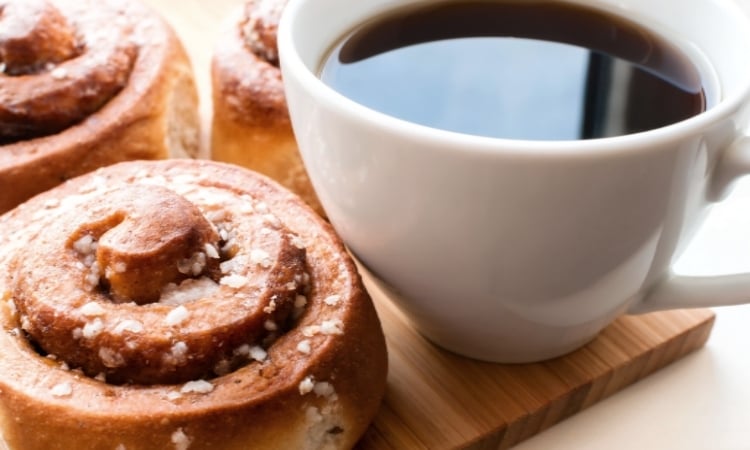 A Swedish Fika
Food & Drink
Join the Swedish Fika
A Swedish Fika
To go out for a fika is one of the most Swedish things one can do. Roughly translated fika means a coffee break, but in actuality, it is so much more than that. Fika is deeply rooted in the Swedish culture, and something Swedes take very seriously and like to do almost every day.
What is a Fika
When you have a fika you essentially have a cup of coffee or tea, and a piece of cake or pastry at a fik (a Swedish slang word for café or coffee shop). Fika is also usual in many Swedish workplaces - twice a day you take a break from work and have a cup of coffee and something sweet to eat. It's a great way to forget about work for a minute and recharge or to discuss work topics in a more relaxed environment.
Fika is very much a social activity in Sweden that almost everyone takes part in. If you go to a café in Sweden you will find teenagers, young adults, university students, adults, and elderly sitting with their friends or colleagues and discussing what's going on in their lives over a cup of coffee. It's a great way to get to know new colleagues, catch up with friends, or an activity for a date.
A fika can take everything from ten to fifteen minutes to a couple of hours.
Where to Fika
Since the concept of fika is so widespread in Sweden, most cities are packed with cafés, coffee shops, and bakeries. In Stockholm, you will find a place to have a fika at almost every block. The cafés are usually filled with a great atmosphere, cozy sofas and armchairs, and exciting baked goods. Some cafés focus on classical Swedish baked goods, like Swedish cinnamon buns and Swedish princess cake, while others are more creative and contemporary.
Flickorna Helin
Flickorna Helin
is a charming café and restaurant on Djurgården in central Stockholm. The café is known for its wide selection of delicious baked goods and its cozy atmosphere. The café is located in a castle-like building, and in the summer they offer a beautiful garden where you can have your fika outside.
If you're visiting Skansen, the Vasa Museum, Junibacken or the ABBA museum, Flickorna Helin is a perfect place to visit for a fika or lunch.
Green Rabbit
If you're looking for something more contemporary the
Green Rabbit
is where to go. This café and bakery is created by the celebrated chefs Mathias Dahlgren and Martin Berg. The atmosphere is creative and the baked goods and food are delicious.
The Green Rabbit specializes in rye bread, and offer a lot of different exciting spices in their bread. The bread is organic and freshly baked every single day.
The Green Rabbit is located in central Stockholm at Tegnérgatan, and here you can get breakfast, lunch or just a fika.